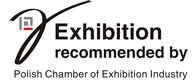 10.01.2019
Join the exhibitors of POZNAŃ SPORT EXPO 2019.
27.06.2018
We present You the latest issue of Poznań Fair Magazine. We invite You to read both its paper and online version. In this issue we present the distinguished guests who visited Poznań International Fair in the recent months, provide reports on the spectacular fair and events, and present Arena Hall, which joined the group of objects managed by the Poznań International Fair. And moreover…
09.03.2018
We would like to inform you that 19. PKO Poznań Marathon will take place on October 14, 2018, not as originally planned on October 21, 2018.
More news
---

The nearest edition 12-14 April 2019| POZNAN SPORT EXPO together with 19. PKO Poznań Marathon