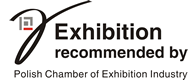 30.10.2017
We are presenting you with the latest interactive issue of Poznań Fair Magazine "Calendar of trade fair in 2018". It is absolutely unique publication onto polish market! We invite you to click!
10.10.2017
POZNAŃ SPORT EXPO fair is an interesting event for all people actively engaged in sports as well as marathon runners.
10.10.2017
45 years ago, it started for it's first tour. As the only narrow-gauge railway in Poznan, it proudly carries the youngest visitors and tourists. This year celebrates its birthday, which we decided to commemorate this year's marathon medal.
More news
---

13-15 October 2017 | POZNAN SPORT EXPO
Fair for active people and marathon challenge
Poznań Sport Expo is a trade fair for active people who like sports, which will be held on 13-15 October 2017 in the premises of the Poznań International Fair (PIF).
We invite shops and wholesalers of sport goods, distributors of sport brands, sport instructors, as well as sports and recreation centres, fitness clubs, event agencies and travel agencies to present their offers. For companies participating in the trade POZNAŃ SPORT EXPO provides a direct contact with customer, who give them among others information about the consumer preferences.
The crowning event of the fair will be the 18th edition of the Poznań Marathon, which finishing line will be located on the grounds of the Poznań International Fair.